How to Grow Your Business and Stand Out From the Competition
Mike Barrett
November 9, 2021 | 1,677 views | 20 min. read time
When you first start a business, everything feels brand new. You know your products or services like the back of your hand, and you know exactly who your target market is. However, when you get started in the world of business, things start to become a lot more challenging. You're no longer working in a comfortable environment with people who understand everything you say. Now, you have to prove yourself to strangers who might not trust you right away and may be wary of what you're selling. If you want to stand out from the crowd and grow your business faster than anyone else in your industry – whether it's an online business or physical one – then reading this article is the first step in the right direction. Here, we will discuss some amazing growth hacks for businesses that will help set you apart from everyone else competing for attention in the same niche as you.
Create engaging and useful content
One of the best ways to get people to trust your business is by providing useful, engaging content that's relevant to their interests. This can be in the form of blog posts, videos, e-books, and more. The key is to provide as much value as possible so that your future customers will feel confident about what they're buying from you. By creating content that's informative and helpful, you will establish yourself as an authority in your industry. You might even get some of the information on your blog or site shared on social media sites like Facebook or Twitter! When people see that your content is being shared on these sites (especially if it's a lot), then they know it must be worth reading. Your competitors may try to copy what you do for marketing purposes, but copying doesn't work in this day and age because you can easily show people how different you are from them. For example, let's say someone else has a blog post with 10 tips for starting a business – would you really want to read it? Probably not! If you have 20 tips or 30 tips instead of 10 tips, then people will be more inclined to read yours instead. This also means that when someone reads one of your blog posts or watches one of your videos and shares it with their friends and family members, they are essentially promoting your business for you without even realizing it! When they share something with their friends
Make your presence known
Let's face it, we live in a world of information overload. With the internet, there are limitless opportunities to explore and become exposed to new things. So, how do you break through the noise? A good way that has been used by many different types of businesses is brand ambassadors. This can be someone who works for your company who introduces themselves through social media or even at events where they meet prospective customers. Brand ambassadors share their experience with the company and answer questions about what they like about it. They also give out samples to people if applicable and talk about how much they enjoy working for your company.
Plan how to Measure Success
The most important step to take when marketing your business is to set goals. And not just small ones either. You want to make sure you're taking the time to plan how you will measure success before you start your marketing campaign. This way, you can know what goal you want to accomplish and how long it will take for you to reach it.
Use tools to Help with ad Targeting and Measurement
One of the most important parts of running a successful business is being able to measure your progress at all times. Luckily, there are many tools that help you do this. For example, Google Analytics allows you to track everything from the number of visitors your website gets to the demographics of your visitors. You can also track where people are coming from and what they're looking for on your site, as well as how long they stay on your page. You can even use Google Analytics to find out which keywords bring in the most traffic or which marketing campaign was most successful. Measurement is essential in any business field, and digital marketing is no different. By using tools like Google Analytics to track the success of your advertising campaigns and find out which methods work best for you, you will be able to grow much faster than with traditional methods alone.
Understand Your ideal Customer
One of the most overlooked aspects of marketing is understanding your ideal customer. Not only will this help you create better content, but it will also increase the effectiveness of your marketing efforts. To do this, all you have to do is ask yourself a few questions: Who are your competitors? What products or services do they offer? Who are your target customers? What are their interests? What can you do to appeal to them in a way that nobody else does or offers? It doesn't matter what industry you're in, understanding who you're targeting is crucial for success. This helps ensure that every aspect of your business plan is done with the end user in mind. The more you know about them, the easier it will be to reach out to them and make sure they take notice of what you have to offer. Hashtag Marketing - As much as 66% of people on social media use hashtags and as much as 82% click on posts with hashtags attached. By using relevant hashtags, brands can communicate with their current audience and grow their following exponentially by tapping into new demographics on the same platform! All you have to do is Google "top hashtags" for any given topic and then start using those hashtags when speaking about your business on social media platforms like Instagram, Facebook, Twitter etcetera. Influencer Marketing - Brands like Coca-Cola have taken influencer marketing to a whole new level by partnering with popular influencers to share new
Host an Event to Grow Your Business
Hosting an event for your business is a great way to market and grow your customer base. When you host an event, you will be able to reach out to potential customers in the area and inform them about what you have to offer. Events are also a great way to get people talking about your business. More importantly, hosting events will help you expand your customer base by drawing in new visitors that might not otherwise have found out about you. Hosting an event can be intimidating at first but it actually shouldn't be too hard if you plan ahead. Find a location that is suitable for the size of the event that you want to host and send invitations with RSVP details far enough in advance so people can make time for the event. You should have flyers or other marketing materials available on site or provide links where recipients can find more information about your business on social media sites or platforms like Facebook or Twitter before they arrive at the event. Once your guests arrive, make sure they feel welcomed by having refreshments available – coffee and tea are usually best – and food that matches the theme of the event (e.g., finger foods if it's a casual networking party). If this is a large event, then it's important to have someone manning each point of entry so no one gets lost navigating around unfamiliar territory while trying to find their friends. Most importantly, take lots of pictures! These pictures will serve as reminders of all the hard work.
Take Advantage of Collaboration
Opportunities One of the best ways that you can take your business to the next level is by collaborating with other people in the same industry. When you collaborate, it will give you an opportunity to learn from them and create a strong relationship with them. It also gives you access to their network, which is great for growing your business. Collaborating can happen in many different ways. You can arrange a trade or share resources with another entrepreneur in order to help each other out. For example, if one company has good contacts in marketing but doesn't have any design skills, they might collaborate with someone who has strong design skills but lacks contacts or resources. This way, both of them are able to grow their respective businesses!
Learn More About What Makes People Buy
One of the things that you should know about is what makes people buy. The best way to do this is by examining what your competitors are doing and seeing if there are any gaps in their marketing strategy. For example, maybe they have a strong social media presence but didn't take the time to create a blog for their business. By looking at what your competitors are doing, you can identify any potential flaws in their marketing strategy that would give you an advantage over them. If you're not sure where to start with figuring out what mistakes your competition might be making, then you should consider searching for your direct competitors on Google and see how many results turn up for them. The more results there are for that particular company or individual, the more successful they seem to be, meaning they're likely not missing out on much of anything when it comes to digital marketing. One of the most important things to do while analyzing this information is to look specifically at what keywords they rank for on Google. This will help show if they're neglecting to use keywords or if they're overusing them. Either way, this information will help you figure out ways that you could potentially improve upon their marketing efforts and rank higher than them on Google's search engine result pages (SERPs).
Build a Marketing Strategy Around Your Products
The first marketing strategy you should implement is to build a marketing strategy around your products. It's important that you know what your product is and what it does. You should also know the price, how it's delivered, and how to provide support when someone buys it. You may not be able to create or sell something on your own, but if you have an idea for a product, then it's possible for you to make that idea into a reality with the help of a manufacturer. When you understand the product inside and out, then it will be easier for you to come up with marketing strategies that will help people learn more about your company and the products they create.
Have a Solid Website and Brand
If you have a solid website and branding, then you're already ahead of the game. Even if you don't have a lot of money to invest in your business, it's important that people can find out about you online. The first thing potential customers will do is search for your company on Google and see what pops up. If you don't have a strong presence online, then how will anyone know who you are? You want to make sure that everything on your website is professional and easy to navigate. Your website should engage visitors with interesting content and useful information. You also want to make sure that the logo or image representing your company is consistent across all of your marketing materials.
Having a constant presence on social media
One of the best ways to promote a business is through social media. Even if you're not marketing your products or services on social media 24/7, you should still have a constant presence so people know what your company is all about and can easily find you when they need to. You never know when someone might stumble across your page while scrolling through their feed and think: "Hey, this would be perfect for my friend who also likes…" And before you know it, both of you are using your products or services! People today spend hours on social media every day. They scroll through their feed, looking at pictures of their friends and family while simultaneously browsing popular news articles and brands that they follow. It doesn't matter how old they are or what demographic they fall into; everyone spends time on social media. If you want a way to get your content in front of as many people as possible, then there is no better way to do so than by having a constant presence on social media (even if it's just once a day).
Summing up
There are many ways to promote your business, but one of the best ways is through digital marketing. There are so many things you can do with digital marketing – social media marketing, blog content, email marketing, and more. And one of the best aspects of implementing digital marketing for your business is that you can be very specific about who you're targeting. You can input information about your ideal customer and target them specifically on social media or other online platforms where they spend time. When it comes to digital marketing for your business, there's a lot more to it than posting on Facebook or creating a website. It's important that you invest in this type of marketing because it will pay off in the long run. Make sure you carefully consider what strategy will work best for your business and implement it accordingly!
Use FOMO on your website!
Install Proofly in a few clicks to take advantage of FOMO on your website today! No creditcard required.
Get started now!
Thumbs up!
Always be up-to-date with Proofly.
Pro tip!
The amount of people using your website on mobile devices rapidly increases. Make sure your websites are fully responsive!
More insights
---
This might be

useful for you

too:
How to Get More Organic Leads: What You Need To Know Before You Try
Organic marketing is expensive. It's not always easy to know what works and what doesn't. This is especially true for businesses that are just getting started and don't have all the answers yet. But it do...
7 Ways to Build Social Proof That Will Make Your Business Thrive
You may not realize it, but your potential customers are constantly judging you. Whether you're launching a new business or trying to bring it back from the brink of death, social proof is what can make—or...
The 5 Best Strategies to Boost Creativity in Your Marketing Campaign
Creativity is a critical aspect of the marketing process, especially when it comes to launching new campaigns or initiatives. Marketing strategies are more competitive than ever, which means you need to think o...
The Best Social Media Marketing Tips for Small Businesses
Social media marketing can be a challenging, but rewarding channel for small businesses. The smaller scale of these platforms means that you have the opportunity to interact directly with customers and build tr...
How To Use Social Proof in Your Marketing Strategy
Social proof is a marketing term used to describe the actions of others that influence potential customers. When a person is considering making a purchase, they often look to others for validation. This phenome...
Ready to use social-proof too?
You can use Proofly within 5 minutes on your own website absolutely free!
Set-up in 5 minutes Over 25,000 satisfied customers No monthly subscription
4.7/5 customer satisfaction
Get started now!
They are

one step

ahead. Join them! 👏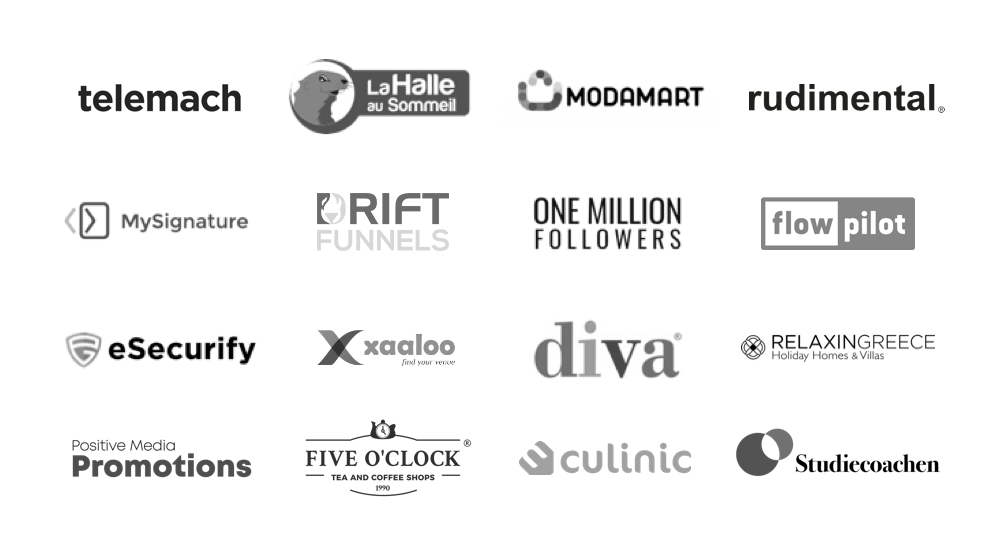 a few thousand others...